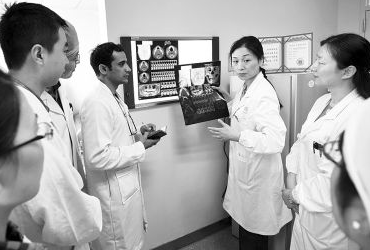 Bachelor of Medicine, Bachelor of Surgery, or in Latin: Medicinae Baccalaureus, Baccalaureus Chirurgiae (abbreviated in various ways, viz. MBBS or MBChB, MB BS, MBBChir(Cantab), BM BCh (Oxon), MB BCh, MB ChB, BM BS, BM, BMed etc.), are the two first professional undergraduate degrees awarded upon graduation from medical school in medicine and surgery by universities in various countries that follow the tradition of the United Kingdom. The naming suggests that they are two separate degrees; however, in practice, they are usually treated as one and awarded together. In countries that follow the tradition of the United States, the degree is awarded as M.D., which, in those countries, is a professional doctorate degree.
The degree is currently awarded in various forms in institutions in Australia, Bahrain, Bangladesh, Barbados, Botswana, China, Egypt, Fiji, Ghana, Guyana,Hong Kong, India, Indonesia, Iran, Iraq, Ireland, Jamaica, Jordan, Kenya, Kuwait, Libya, Malawi, Malaysia, Mauritius, Mexico, Myanmar, Nepal, New Zealand, Nigeria, Pakistan, Papua New Guinea, Samoa, Saudi Arabia, Sierra Leone, Singapore, South Africa, Sri Lanka, Sudan, Tanzania, Trinidad and Tobago, Uganda, the United Arab Emirates, the United Kingdom, Zambia and Zimbabwe.
In many countries, the degrees are awarded after an undergraduate course lasting five or six years. For example, most China universities eligible for the degrees provide undergraduate courses lasting six years. In some cases, a graduate in another discipline may subsequently enter a special graduate-entry medical course, reduced in duration to account for relevant material covered or learning skills acquired during the first degree. In some cases the old first year courses (for six year degrees) in the basic sciences of physics, chemistry and biology have been abolished, and that standard has to be reached by means of school examinations before entry. However, in most countries a newly graduated Bachelor of Medicine and Surgery must spend a specified period in internship before they can obtain full registration as a licensed medical practitioner.