On September 22, 12 international students of BFSU, including 6 from IBS, participated in the second Hengshui International Marathon.
They were invited by the organizer to take part in the Mini Marathon, which is 5 km.
The students, along with four staff from BFSU, went to Hengshui of Hebei Province in Northern China by the school bus on September 21. At 12 am, they arrived at Bishuiwan Hotel and checked in. In the afternoon they visited Xisan Inside Painting Museum and Hengshui High School, where the foreign students held friendly talks with high school students.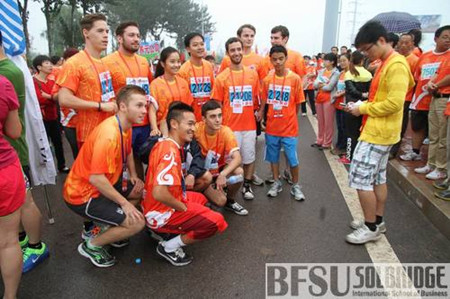 Inside painting is a very unique Chinese folk art and has been included in the first batch of non-substance civilization legacy of the country and Hengshui is the cradle of the art. Hengshui High School is famous for its large number of graduates enrolled at top Chinese universities. Every year, about 100 graduates are enrolled at Peking University and Tsinghua University, which are the most prestigious universities in China.
At 7 am of September 22, the students went to the starting point and prepared for the game. About 15,000 players, both professional and amateur ones, participated in the games. At 8 am, the game began. All players from BFSU finished the 5-km mini marathon in forty minutes.
Hengshui is about 270 km (168 miles) from Beijing. The Hengshui Lake is the second largest lake in North China Plain. The main track of the marathon is right around the lake.