BEIJING, Sept. 26 (Xinhua) -- An 18-meter-tall rubber duck will experience ancient Beijing at the Summer Palace, a former emperor's country retreat, starting on Thursday.
After an 18-day show at Beijing's International Garden Expo Park, the duck, brainchild of Dutch artist Florentijn Hofman, was reinflated on Kunming Lake within the royal palace grounds in northwest Beijing.
The duck was placed near the 17-Arch Bridge on Kunming Lake. Behind it is the imposing Wanshou Hill, also known as Longevity Hill, the centerpiece of the royal park.
The duck will be on display until Oct. 26 and is expected to become a sensation for visitors to the capital, especially those who come during the upcoming National Day holiday, which begins Oct. 1, said the Summer Palace managers.
Made of over 200 pieces of rubber, the duck is part of activities that prelude Beijing Design Week, which runs from Sept. 26 to Oct. 3.
"It's not just children who like it. The core value of the rubber duck is to bring back childlike innocence to all of us, especially weary adults," said Zeng Hui, deputy head of the Beijing Design Week organizing committee.
"For Beijing, it's good to see an interesting combination of ancient oriental delicacy with western modern simplicity," said Zeng, who also helped invite the rubber duck to Beijing.
The Beijing version is bigger than the one shown in Hong Kong months ago. It took workers four hours to finish inflating the duck at the Summer Palace on Wednesday night, he said.
Haetina Stephan, a German visitor, was happily surprised to see the duck in China.
"Actually, it's my first time seeing it. Beijing is a traditional city. I love the old buildings here, so the contrast is good," she told Xinhua.
For other visitors, like Zhu Dawei, a postgraduate at the Beijing-based China University of Political Science and Law, it's a little bit disappointing to see "few Chinese elements" in the duck itself.
"It might be more fun and creative to put the duck in Chinese emperor clothes," he said.
Nicknamed the "giant yellow duck" by Chinese fans, the exhibition attracted many visitors to the expo park. From Sept. 19 to 21, China's Mid-Autumn Festival holiday, 196,000 visitors went to see the duck, according to organizers.
Before arriving in Beijing, the rubber duck traveled to 13 cities in nine countries.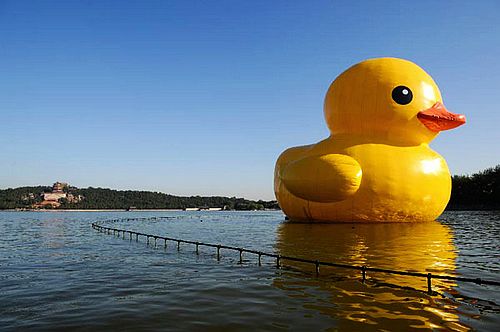 A giant rubber duck is seen on the Kunming Lake at the Summer Palace in Beijing, capital
of China, Sept. 26, 2013.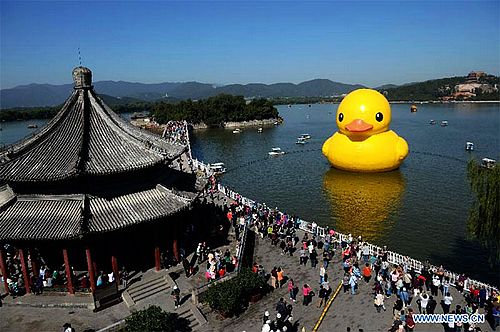 The 18-meter-tall inflatable duck will stay at the Summer Palace, a famous Beijing tourist spot, until Oct. 26. (Xinhua/Li Xin)