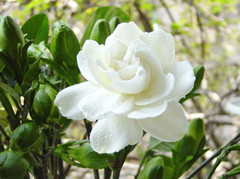 China is a vast country with a long history and diverse nationalities, and therefore there are a great number of widespread ballads and folk songs. Among them, Jasmine Flower stands out for its beautiful and catchy tune. It's so popular that nearly everyone can hum along.
Jasmine Flower has been a hit across the country since ancient times. There may be some variations of the ballad, but the version popular in the lower reach of the south of the Yangtze River is the most typical and widely spread. The melodious, elegant and emotional tune is in praise of jasmine flowers, referring to the pure and true love between a man and a woman in an indirect way. Back in the Qianlong Period of the Qing Dynasty, the lyrics of Jasmine Flower was included in Zhuibaiqiu, an anthology of Chinese operas published at that time. This fully demonstrates its long history.
In 1804, John Barrow, the secretary of the first British ambassador to China, especially featured the score of Jasmine Flower in his work Travels in China. The ballad thus became the first Chinese folk song introduced overseas in the form of a publication. It soon got popular in Europe and South America etc.
In 1924, the world-renowned opera master and Italian composer Puccini finished the draft of opera Turandot shortly before he lost his battle with cancer. Set in the Yuan-Dynasty China, the opera created a beautiful yet obdurate princess named Turandot. Puccini made the tune of Jasmine Flower one of the main music elements of the opera and adapted it into a female chorus, giving a Chinese flavor to the Chinese story completely composed and performed by foreigners. In 1926, the debut of the opera was a great success in Italy. After that, the fragrance of Chinese Jasmine Flower drifted to a wider area along with the popularity of the classical opera.