Changzhou---A vibrant city in the Yangtze River Delta
Overview
Changzhou is located in southern Jiangsu province with a population of approximately 4 million. It lies south of the Yangtze River, and is only 50 minutes away from Shanghai by rapid train.
   
In a city with a history of almost 3000 years, you can expect to see many historical sites and a well-preserved environment. Changzhou also ranks high-up in the country in the index of security, good investment environment, and evolving development. Whereas the majority of big cities suffer from slow moving traffic at rush hours, the Bus Rapid Transport System and elevated highway in and around Changzhou can move people from home to work and back again quickly and safely.
   
   
How to get there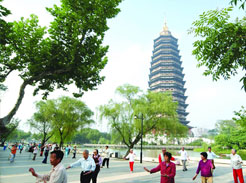 Changzhou lies between Nanjing (the provincial capital) and Shanghai (the financial center). As a major city it is easily accessible using all forms of transport.

By plane: Changzhou's Benniu Airport has flights to 20 major cities in China as well as the major cities in Southeast Asian countries. Benniu Airport can handle all types of civil planes (Airbus320 excepted)
   
By rail: Changzhou has two train stations. One station is located close to the city centre and the other to the north of the city. By the high-speed trains, Changzhou is only 4 hour and 40 minutes away from Beijing, the capital of China.
   
Culture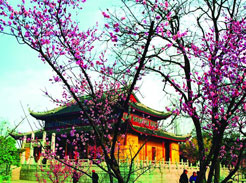 You can have a glimpse of the local culture at the Museum of Changzhou Intangible Heritage, which is located in the library of Changzhou University. The amazing exhibition of intangible culture items of Changzhou will enable visitors to gain a deeper insight into the local life.
   
Changzhou offers traditional handicrafts like wood combs, silk embroidery in a "crisscross" style, and carvings made from green bamboo.
   
Beyond its traditional charms the city also offers the following: top-quality hotels and restaurants, IMAX cinemas and grand theatres, big shopping malls, club and bars, theme parks, gardens and flower expositions…
   
Come and experience the city for yourself!