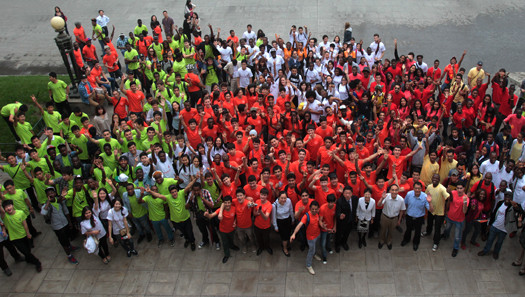 Sponsored and organized by China Scholarship Council (CSC), the first CSC Scholarship Student Conference was held at Tsinghua University, Beijing and Southeast University, Nanjing on June 8th and 22nd, 2013 respectively. Ms. Liu Jinghui, Secretary-General of CSC, Mr. Yuan Si, Deputy President of Tsinghua University, Mr. Pu Yuepu, Deputy President of Southeast University and Ms. Tian Lulu, Director of International Student Office of Department of International Cooperation and Exchanges, Ministry of Education of PRC presented the conference in the two cities, together with more than 900 CSC scholarship grantees from 119 counties. These students are now studying at Shandong University, Tianjin University, Northeast Normal University, Beijing Language and Culture University, Tongji University, Nanjing Normal University and Central China Normal University with CSC scholarship.
Ms. Liu Jinghui addressed the meeting and emphasized in her speech that Chinese government has been attaching great importance to the cooperation and exchanges in education and culture, especially in student and scholar exchanges. In the year 2012, CSC sponsored more than 60 thousand students and scholars to study abroad or in China. By the year 2020, Chinese government will admit 500,000 international students to study in China in total and will offer more scholarship. CSC will also provide even better service to the CSC scholarship students.
International student representatives from the seven universities above and the two host universities shared their study and living experience in China and expressed their sincere gratitude to Chinese government for the precious opportunities of studying in China.
Students also had a great time visiting laboratories and science bases in the two host universities as well as local places of historic interest, enjoying the cultural shows like Peking Opera and Chinese Kung fu. CSC indicated that more conferences will be organized in the future to provide a platform for the scholarship grantees to communicate and have a better understanding of China and its traditional culture.