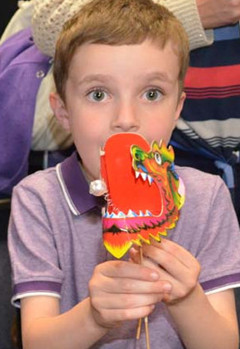 The Confucius Institute at the University of Glasgow celebrated the Dragon Boat Festival with series of activities on 12 June 2013, which is 5 May 2013 on Chinese lunar calander.
At 6pm, over 150 guests including staff and students from the University of Glasgow and from the general public arrived at Room 201, John McIntyre Building. The room was beautifully decorated by red Chinese knots, lanterns, and balloons with the Confucius Institute logos, which was a nice touch.
The Director, Professor Jane Duckett opened the evening with warm welcome to the guests. The Manager, Ms Duo Long gave a presentation on the Dragon Boat Festival and introduced its traditions, including how to make Sticky rice dumplings-"Zong Zi". All the guests were interested and keen to make the delicacy by themselves.
To make the evening interesting and enjoyable, the Confucius Institute planned many activities which includes chopstick challenge, Chinese calligraphy, paper dragon boat making and decoration, five colour bracelet making, egg printing and the most important one-stick rice dumplings making. The Co-Director, Professor Lichang Su is very good at calligraphy, he demonstrated how to use a brush and write with ink. Many guests were fascinated by this traditional art and could not wait to try, while the children had great fun to make and decorate paper dragon boat, make bracelets and paint eggs. Other people enjoyed making sticking rice dumplings with the help from Chinese students. Three prizes were given during the lucky draw, which added a lovely surprise and created a great atmosphere for the evening.
It was a successful evening, which introduced the Dragon Boat Festival and its tradition to the local general public, especially to the young generation. This has encouraged an ever-increasing interest to learn more about China and its culture and language.