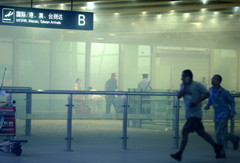 A man in a wheelchair allegedly set off a homemade explosive device at Beijing's Capital Airport on Saturday evening. The explosion took place outside Gate B of the arrival hall at Terminal 3 at about 6:24 pm, according to public security authorities at the airport.
Ji Zhongxing, 34, from Heze city in Shandong province, allegedly set off the homemade bomb, which police said was manufactured from fireworks. The suspect's left arm was fractured and a police officer was slightly injured. No one else was hurt in the blast, which filled the arrival hall with smoke.
Ji is currently under treatment. He once worked in the southern province of Guangdong and has been petitioning for more than 10 years over alleged unjust treatment which resulted in his paralysis, according to a police investigation.
The area was cleared two hours later, and the situation was quickly brought back to normal. No flights were affected by the incident.
Up until 9 pm, about 20 police officers and security guards were maintaining order at the gate and patrolling other exits.
Eyewitnesses said the suspect Ji had been distributing handbills to passengers at the Arrival Hall from his wheelchair. Security personnel received several complaints and were moving to stop him when he suddenly ignited the bomb, police said.
Tie Gejiang, a witness at the airport, said he was on the second level of the airport waiting for his flight to South Africa, when he heard a loud blast.
"Black smoke filled the building after the very loud sound," he said. "I went downstairs immediately to see what happened and the situation at Gate B was pretty chaotic."
He said he saw some medical personnel hurrying away with the injured suspect, adding that he was worried about the security at the airport.
Chen Long, a father waiting for his 10-year-old daughter who was coming back from the United States, echoed Tie's concerns, saying that security checks should also cover other parts of the airport apart from the boarding gates.
"I was lucky because my child's flight landed two hours later. I cannot imagine what sort of effect this will have on a young child if she had witnessed the incident."
Xu Tianshang, 72, said he was equally worried after he had gotten off his flight from Hong Kong. Xu felt that passengers should be more aware of airport security for their own protection.