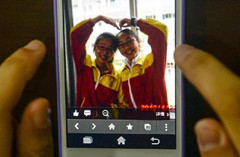 The education bureau in eastern China's Quzhou City has suspended overseas study tours after a plane crash killed two students in San Francisco Saturday.
The move came amid nationwide condolence over the death of the two Chinese teenage girls in the plane crash.
The Boeing 777 which carried 291 passengers crash landed at San Francisco International Airport, killing two Chinese girls who traveled with dozens of Chinese teenagers for a summer camp to study English and tour colleges in the U.S.
The education bureau in the city has ordered schools and related institutions to cancel all summer camps and study tours.
The school has been organizing study tours since 2006, with parents paying about 30,000 yuan (US$4,887) to send their children to the U.S.
Nearly 200,000 Chinese students studied in the US in 2011-2012, more than any other country and accounting for more than a quarter of international student population in the US.
The number is expected to grow, and Chinese families hoping to have their children attend US colleges see summer trips as another way to gain an edge in applications and to help with the cultural and linguistic acclimation expected of the students once they are abroad.
The popularity of such programs has grown significantly over the past five years, according to Alex Abrahams, general manager of Shanghai-based Blue Sky Study, which consults families who want to send students abroad.
An American education has become desirable with many Chinese parents, who believe it can better prepare their children in a globalized economy.
Yan Jiaqi, a Beijing-based education consultant, said the summer tours mix having fun with preparing for college.
"Those kids sooner or later will go to US schools, and the trip is an opportunity for them to get to know the US and help them choose a university later," he said.