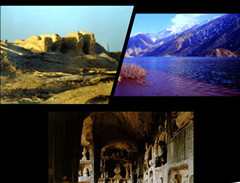 Xinjiang Uygur Autonomous Region covers an area of 1.66 million square Kilometers, with a population of 17 million. It has very rich tourism resources and has great potential of developing tourism industry.
Xinjiang has rich tourism resources, vast both in quantity and variety, with high levels, large capacities and complete functions, thus promising a good prospect. In Xinjiang, one finds all the driest, hottest and coldest places in China. It also has China's longest continental river, lowest lowland, largest inland lake and largest desert. One can see in Xinjiang wold famous Yadan landforms, stone mushrooms formed by wind erosion, caves, limestone towers, as well as natural spectacular views as desert images and ringing sand. In addition, Xinjiang has many rare desert animals and plants.
The land of Xinjiang is very different in it's altitude, from the Turpan Aiding lake, the world's lowest land second only to the Dead sea in Jorkan, to the Qiao geli peak, the world's highest mountain second only to the Everest, with the difference between the two places being 8765 meters! With such a widely different natural views, Xinjiang is reputed as a place of "four seasons in a single mount ain and two climates within dozens of miles". Xingjiang's mountain area accounts for 4490 of its total area. It has numerous continent rivers and mountain lakes, along with countless hot springs, air fountains, and glaciers. On the top of a mountain, there come clearly into view desert oases, hill in wilderness, grass land and forest, snow covered mountains, lakes and basins, and so on. The vast stretches of grassland are covered with colourful wild flowers, cattle and sheep, as well as picturesque landscapes.
The historical tourist resources in Xinjiang boast unique charm. The Silk Road across the territory is famous worldwide. There are 236 sites in Xinjiang that are worth studying as historical, art or scientific legacies. They include ancient cultural ruins, ancient tombs, ancient caves and temples such as the Thousand-Buddha Cave, stone carvings, art modern memorials, 10 of which have been rated as key national cultural relics under protection. There are also 16 thousand-Buddha cave sites, with more than 550 caves being fundamentally intact. Beside, there are several thousand cultural relics and 22 natural reserves. The discovery of Altay corridor of rock paintings, dinosaur fossils in Junggar and monstrous lizard has drawn attention of experts and scholars both at home and abroad.
Xinjiang is a multi-national region, the daily life style, culture and art folk custom and festivals of all nationalities have strong local national characteristics. Minority nationalities since ancient time are famous for their singing and dancing and these unique songs and dances are most attractive tourism resources of Xinjiang. Xinjing has enjoyed the fame of hometown of fruits and melons, home town of horses, country of gold and jade and kingdom of carpet from ancient time. These are the reasons why Xinjiang being loved so much by so many tourists. Xinjiang has long boundary lines and many ports, is the province bordered with most neighbouring countries, longest boundary lines, most land ports opened to the outside, and best land port for inbound tour in China. Xinjiang keeps good relationship with central and west Asia peoples, so it is very attractive for tourists both from home and abroad.
With a later start, Xinjiang's tourism has developed rapidly; it has established their industry position through more than twenty years development.
The total investment of the region is 4.426 billion yuan within twenty years, among which 0.67 billion yuan were invested from outside.
Tourism infrastructure is approaching perfection day by day. Transportation and communication facilities construction have been greatly developed, Turpan-Urumqi- Dahuanshan highway. Urumqi-kuitun highway, south Xinjiang Railway projects have been finished, Railway passenger transportation has already opened direct routes to Beijing, Shanghai, Lianyungang, Jinan, Chengdu, Zhengzhou and xi'an from Uru mqi, two regional routes and one international route were being opened. The regional highway transportation has been connected to the network. The civil air company has 21 middle and long distance passenger airplanes major by Boeing series, with 12 airports, opened 61 flight routes. There have been 6400 kilometers long optical fiber cables in operation in Xinjiang, communicating 98% prefectures, areas, cities and counties, The infrastructure of Xinjiang can meet the needs of great development of tourism.